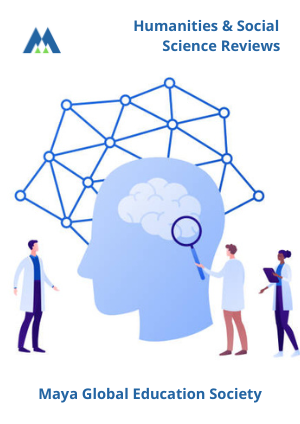 Authors retain the copyright without restrictions for their published content in this journal. HSSR is a SHERPA ROMEO Green Journal.
Publishing License
This is an open-access article distributed under the terms of
A SYSTEMATIC REVIEW OF LITERATURE ON RECRUITMENT AND SELECTION PROCESS
Corresponding Author(s) : Kanagavalli G.
kanagavalli277@gmail.com
Humanities & Social Sciences Reviews, Vol. 7 No. 2 (2019): March

Abstract
Purpose of the study: The main purpose of this study is to provide a new, macro-level model of strategic staffing to bridge the gap in the knowledge regarding how practices within recruitment and selection systems can work to provide a competitive advantage among various sectors. This study identifies the various methods of recruitment and selection process through a systematic review of literature, which would be the right fit for attracting and selecting employees in an organization.
Design/methodology/approach: Content analysis method is adopted to review the literature and subcategories were formed to analyze the research. Literature was collected from 40 articles of a reputed journal from 2010 to 2018.
Main findings: The review of literature revealed that the recruitment and selection process is carried out in organizations by adopting latest technologies like online portals, outsourcing, job fair, campus interviews, and mobile recruitment applications. The representation of this practice is to find the best candidate for an organization. Besides adopting the latest technology, consideration of the expatriate factor would lead to an effective way of recruitment practices in finding out the right candidate for the right job and thus create a healthier work environment. The expatriate factors have not been considered well in the Indian context, but have been given importance in the global context in the process of recruitment and selection.
Social Implications: Highlighting the significance of various recruitment practices results in the selection of the right person in the right job, which enhances a healthier working environment in organizations, in turn rendering high quality products and services to the society.
Originality of the study: Prior research has studied various factors that influence internal recruitment, external recruitment, and selection process. This study is an attempt to analyze the expatriate factors and other factors through the content analysis method.
Keywords
Recruitment and Selection
Literature Review
Content Analysis
Strategic Staffing
Competitive Advantage
G., K., R., D., & T., D. (2019). A SYSTEMATIC REVIEW OF LITERATURE ON RECRUITMENT AND SELECTION PROCESS. Humanities & Social Sciences Reviews, 7(2), 01-09. https://doi.org/10.18510/hssr.2019.721
Download Citation
Endnote/Zotero/Mendeley (RIS)
BibTeX
References
Anna B, Holm. (2012). E-recruitment: Towards an Ubiquitous Recruitment Process and Candidate Relationship Management. Electronic Human Resource Management: Transformation of HRM, Vol.26, Issues: 3, pp. 241-259. DOI: https://doi.org/10.1177/239700221202600303
Annette scherpenzeel., and Vera Toepoel. (2012). Recruiting a probability sample for an online panel: Effects of contact mode, incentives, and information, The Public Opinion Quarterly, Vol. 76, No. 3 ,pp. 470-490 DOI: https://doi.org/10.1093/poq/nfs037
Chungyalpa., & Wand Karishma,T. (2016), Best Practices and Emerging Trends in Recruitment and Selection. Journal of Entrepreneurship and organization Management, Vol . 5. Issue: 2
Cornelius, J. König, Eva Jöri., and PatriziaKnüsel. (2011), The Amazing Diversity of Thought: A Qualitative Study on How Human Resource Practitioners Perceive Selection Procedures. Journal of Business and Psychology, Vol. 26, No. 4. pp. 437-452 DOI: https://doi.org/10.1007/s10869-010-9199-9
Dennis Campbell..(2012) .Employee Selection as a Control System. Journal of Accounting Research, Vol. 50, No. 4. pp. 931-966 DOI: https://doi.org/10.1111/j.1475-679X.2012.00457.x
Don Boyd., Hump Lankford., Susanna Loeb., Matthew Ronfeldt., and JimWyckoff. (2010). The Role of Teacher Quality in Retention and Hiring: Using Applications to Transfer to Uncover Preferences of Teachers and Schools. Journal of Policy Analysis and Management, Vol. 30, No. 1. pp. 88-110 DOI: https://doi.org/10.1002/pam.20545
Dr. DilipAher., and Dr. Ghanshyam D, Giri. (2018). A study of Recruitment and Selection process with Special reference to manufacturing industries in Pimpri- chinchwadmidc. Elk Asia pacific journal of human resource management and organizational behavior, Volume 4, Issue 1
Eunmi Mun. (2010). Sex Typing of Jobs in Hiring: Evidence from Japan. Oxford University Press, Vol. 88, Issues: 5, pp. 1999-2026 DOI: https://doi.org/10.1353/sof.2010.0046
Helen D, Arnold, (2013). The Affordable Care Act and International Recruitment and Migration of Nursing Professionals .Indiana Journal of Global Legal Studies, Vol. 20, No. 2 .pp. 1373-1391 DOI: https://doi.org/10.2979/indjglolegstu.20.2.1373
Jasjit Singh., and Ajay Agrawal. (2011). Recruiting for Ideas: How Firms Exploit the Prior Inventions of New Hires. Management Science, Vol. 57, No. 1, pp. 129-150 DOI: https://doi.org/10.1287/mnsc.1100.1253
Jed DeVaro., and Hodaka Morita. (2013).Internal Promotion and External Recruitment: a Theoretical and Empirical Analysis. Journal of Labor Economics, Vol. 31, No. 2. pp. 227-269 DOI: https://doi.org/10.1086/667814
Katherine Calogero. (2011). Become A fan of Government Procurement on Facebook: How The Federal government's acquisition workforce can use social networking websites to recruit New Employees. Public Contract Law Journal, Vol. 40, No. 3. pp. 807-828
Lauren a, River. (2012), Diversity within Reach: Recruitment versus Hiring in Elite Firms. The Annals of the American Academy of Political and Social Science, Vol. 639, pp. 71-90 DOI: https://doi.org/10.1177/0002716211421112
Leonard Bright., and Cole Blease Graham ,Jr.(2015).Why Does Interest in Government Careers Decline Among Public Affairs Graduate Students? .Journal of Public Affairs Education, Vol. 21, No. 4. pp. 575-594 DOI: https://doi.org/10.1080/15236803.2015.12002221
Lieselotte Blommaert., Marcel Coenders., and Frank van Tubergen. (2014), Discrimination of Arabic-Named Applicants in the Netherlands: An Internet-Based Field Experiment Examining Different Phases in Online Recruitment Procedures. Social Forces, Vol. 92, No. 3 ,pp. 957-982 DOI: https://doi.org/10.1093/sf/sot124
Linda Colley.(2011).The Passing of Youth: How Removal of Traditional Youth Recruitment Policies Contributed to the Ageing of Public Service Workforces. Labour History, No. 101.pp. 177-193 DOI: https://doi.org/10.5263/labourhistory.101.0177
María Fernanda García, Richard, A. Posthuma and Manuel Quiñones. (2010). How Benefit Information and Demographics Influence Employee Recruiting in Mexico. Journal of Business and Psychology, Vol. 25, No. 3 ,pp. 523-531 DOI: https://doi.org/10.1007/s10869-010-9175-4
Matthew Bidwell. (2011). Paying More to Get Less: The Effects of External Hiring versus Internal Mobility. Administrative Science Quarterly, Vol. 56, No. 3. pp. 369-407 DOI: https://doi.org/10.1177/0001839211433562
Melody E, Valdini., and Christopher Shortell. (2016).Women's Representation in the Highest Court: A Comparative Analysis of the Appointment of Female Justices. Political Research Quarterly, Vol. 69, No. 4. pp. 865-876 DOI: https://doi.org/10.1177/1065912916668411
Mir Mohammed Nurul Absar.(2012). Recruitment & Selection Practices in Manufacturing Firms in Bangladesh. Indian Journal of Industrial Relations, Vol. 47, No. 3 .pp. 436-449
Paul T, Knudson. (2012). Regional Industrial Recruitment in Upstate New York. State & Local Government Review, Vol. 44, No. 1.pp. 21-32 DOI: https://doi.org/10.1177/0160323X11420885
Samita Sen. (2010). Commercial recruiting and Informal Intermediation: debate over the sardari system in Assam tea plantations, 1860–1900.Modern Asian Studies, Vol. 44, No. 1, pp. 3-28 DOI: https://doi.org/10.1017/S0026749X09990047
Shamima Ahmed and Allison Adams. (June 2010). Web Recruiting in Government Organizations: A Case Study of the Northern Kentucky/Greater Cincinnati Metropolitan Region. Public Performance & Management Review, Vol. 33, No. 4. pp. 653-670 DOI: https://doi.org/10.2753/PMR1530-9576330406
Shereen Hussein., Jill Manthorpe., and Martin Stevens. (2010). People in Places: A Qualitative Exploration of Recruitment Agencies' Perspectives on the Employment of International Social Workers in the UK. The British Journal of Social Work, Vol. 40, No. 3, pp. 1000-1016 DOI: https://doi.org/10.1093/bjsw/bcn131
Silja K, Bruland., Grete Rusten., and Silja Kristiansen Bruland. (2012). Sourcing strategies, channels and geographies in the International Recruitment of a highly skilled work-force. Erdkunde, Bd. 66, H. 1 .pp. 1-11 DOI: https://doi.org/10.3112/erdkunde.2012.01.01
Subhash C, Kundu., and Neha Gahlawat. (2015). Recruitment and Selection Techniques used in Corporate Sector: A Comparative Study of Indian and Multinational Companies. Journal of Organization & Human Behavior, Volume 4, Issue 4 DOI: https://doi.org/10.21863/johb/2015.4.4.022
Sylvie Monchatre., and Peter Hamilton.(2014). Coming to Terms with Diversity: Recruitment between Market Forces and Employee Mobilization. Revue française de sociologie (English Edition), Vol. 55, No. 1.pp. 33-60
Thomas Hegghammer.(2013).The recruiter's dilemma: Signaling and rebel recruitment tactics. Journal of Peace Research, Vol. 50, No. 1.pp. 3-16 DOI: https://doi.org/10.1177/0022343312452287
Tracy M, Kantrowitz., Craig R, Dawson., and Michael S. Fetzer.(2011). Computer Adaptive Testing (CAT): A Faster, Smarter, and More Secure Approach to Pre-Employment Testing .Journal of Business and Psychology, Vol. 26, No. 2. pp. 227-232 DOI: https://doi.org/10.1007/s10869-011-9228-3
VesaPeltokorpi., and EeroVaara.(2014). Knowledge transfer in multinational corporations: Productive and counterproductive effects of language-sensitive recruitment. Journal of International Business Studies, Vol. 45, No. 5. Special Issue: TheMultifaceted Role of Language in International Business: Unpacking the Forms, Functionsand Features of a Critical Challenge to MNC Theory and Performance,pp. 600-622 DOI: https://doi.org/10.1057/jibs.2014.1
Vipin Nadda., and Pankaj Tyagi. (2017). Effectiveness and Challenges of Recruitment process outsourcing (RPO) in the Indian Hotel Sector. Tourism and Hospitality Management, Volume 12, pp.223 - 234
Vladimir Hlasny. (2011).Discriminatory Practices at South Korean Firms Quantitative Analysis Based on Job Application Forms .European Journal of East Asian Studies, Vol. 10, No. 1 .pp. 85-113 DOI: https://doi.org/10.1163/156805811X592522
Yas A, Alsultanny., Mona F, Alotaibi.(2015). Evaluating the Factors Affecting on Intension to Use of E-Recruitment.. American Journal of Information Science and Computer Engineering Vol. 1, No. 5, 2015, pp. 324-331. http://www.aiscience.org/journal/ajisce
Yashar Fadhil Mohammed Harky. (2018). The Significance of Recruitment and Selection on Organizational Performance: The Case of Private owned Organizations in Erbil, North of Iraq. International Journal of Contemporary Research and Review, Volume 09,Issue 02