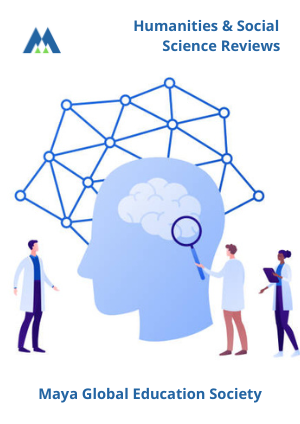 Authors retain the copyright without restrictions for their published content in this journal. HSSR is a SHERPA ROMEO Green Journal.
Publishing License
This is an open-access article distributed under the terms of
THE EFFECTIVENESS OF GOOGLE CLASSROOM AS AN INSTRUCTIONAL MEDIA: A CASE OF STATE ISLAMIC INSTITUTE OF KENDARI, INDONESIA
Corresponding Author(s) : Fahmi Gunawan
fgunawanp@gmail.com
Humanities & Social Sciences Reviews, Vol. 7 No. 2 (2019): March

Abstract
Purpose: This study aims to explore the effectiveness of Google Classroom in the learning process at the State Islamic Institute of Kendari.
Methodology: The research method used in this study is a qualitative method, in-depth interview. Data collection was done through interview sessions with students from the Faculty of Teacher Training and Education.
Main Findings: The findings showed that the use of Google Classroom was effective with various limitations: (1) not all students got an account what was provided by the lecturers because they did not have a smartphone, (2) Wi-Fi availability in the campus was limited and (3) the students did not have enough mobile data plan during the time of online discussion and even some students submitted their assignments using their friends' account.
Applications of this study: The study will allow future initiatives to take into consideration the issues and challenges related to accessibility, connectivity and affordability among the users of the platform, in this case the students.
Novelty/Originality: This study provides valuable insights into the initiatives taken by the institutions of higher education in Indonesia that lack a proper platform for implementing e-learning. Issues and challenges found in this study contribute to making important strategic decisions when designing and implementing such initiatives in the future.
Keywords
Effectiveness
Google Classroom
Learning Media
State Islamic Institute of Kendari
Alim, N., Linda, W., Gunawan, F., & Md Saad, M. S. (2019). THE EFFECTIVENESS OF GOOGLE CLASSROOM AS AN INSTRUCTIONAL MEDIA: A CASE OF STATE ISLAMIC INSTITUTE OF KENDARI, INDONESIA. Humanities & Social Sciences Reviews, 7(2), 240-246. https://doi.org/10.18510/hssr.2019.7227
Download Citation
Endnote/Zotero/Mendeley (RIS)
BibTeX
References
Aagaard, J. (2017). Breaking down barriers: The ambivalent nature of technologies in the classroom. New Media & Society, 19(7), 1127-1143. DOI: https://doi.org/10.1177/1461444816631505
Al-Emran, M., Elsherif, H. M., & Shaalan, K. (2016). Investigating attitudes towards the use of mobile learning in higher education. Computers in Human Behavior, 56, 93-102. DOI: https://doi.org/10.1016/j.chb.2015.11.033
Al-Maroof, R. A. S., & Al-Emran, M. (2018). Students Acceptance of Google Classroom: An Exploratory Study using PLS-SEM Approach. International Journal of Emerging Technologies in Learning (iJET), 13(06), 112-123. DOI: https://doi.org/10.3991/ijet.v13i06.8275
Anshari, M., Almunawar, M. N., Shahrill, M., Wicaksono, D. K., & Huda, M. (2017). Smartphones usage in the classrooms: Learning aid or interference?. Education and Information Technologies, 22(6), 3063-3079. DOI: https://doi.org/10.1007/s10639-017-9572-7
Creswell, J. W., & Creswell, J. D. (2017). Research design: Qualitative, quantitative, and mixed methods approaches. Sage publications.
Dufresne, R. J., Gerace, W. J., Leonard, W. J., Mestre, J. P., & Wenk, L. (1996). Classtalk: A classroom communication system for active learning. Journal of computing in higher education, 7(2), 3-47. DOI: https://doi.org/10.1007/BF02948592
Evans, C. (2014). T witter for teaching: Can social media be used to enhance the process of learning?. British Journal of Educational Technology, 45(5), 902-915. DOI: https://doi.org/10.1111/bjet.12099
Glaser, B. G., & Strauss, A. L. (2017). Discovery of grounded theory: Strategies for qualitative research. Routledge. DOI: https://doi.org/10.4324/9780203793206
Gunawan, F. I., & Sunarman, S. G. (2018). Pengembangan Kelas Virtual Dengan Google Classroom Dalam Keterampilan Pemecahan Masalah (Problem Solving) Topik Vektor Pada Siswa SMK Untuk Mendukung Pembelajaran. In Prosiding Seminar Nasional Pendidikan Matematika Etnomatnesia.
Hakim, A. B. (2016). Efektifitas Penggunaan E-Learning Moodle, Google Classroom Dan Edmodo. I-STATEMENT, 2(1).
Hamid, S., Waycott, J., Kurnia, S., & Chang, S. (2015). Understanding students' perceptions of the benefits of online social networking use for teaching and learning. The Internet and Higher Education, 26, 1-9. DOI: https://doi.org/10.1016/j.iheduc.2015.02.004
Hardjana, Agus M. (2003). Komunikasi Intrapersonal dan Interpersonal, Yogyakarta : Kanisius
Iftakhar, S. (2016). Google classroom: what works and how?. Journal of Education and Social Sciences, 3(1), 12-18.
Inoue, M., & Pengnate, W. (2018, May). Belief in foreign language learning and satisfaction with using Google classroom to submit online homework of undergraduate students. In 2018 5th International Conference on Business and Industrial Research (ICBIR) (pp. 618-621). IEEE. DOI: https://doi.org/10.1109/ICBIR.2018.8391272
Izenstark, A., & Leahy, K. L. (2015). Google classroom for librarians: features and opportunities. Library Hi Tech News, 32(9), 1-3. DOI: https://doi.org/10.1108/LHTN-05-2015-0039
Jano, Z., Noor, S. M., Ahmad, R., Saad, M. S. M., Saadan, R., Bokhari, M., & Abdullah, A. N. (2015). Website usability and cultural dimensions in Malaysian and Australian universities. Asian Social Science, 11(9), 1. DOI: https://doi.org/10.5539/ass.v11n9p1
Liu, H. C., & Chuang, H. H. (2016). Integrating Google Classroom to Teach Writing in Taiwan. Minnesota eLearning Summit.
Madhavi, B. K., Mohan, V., & Nalla, D. (2018). Improving Attainment of Graduate Attributes using Google Classroom. Journal of Engineering Education Transformations, 31(3), 200-205.
Martínez-Monés, A., Reffay, C., Torío, J. H., & Cristóbal, J. A. M. (2017, October). Learning Analytics with Google Classroom: Exploring the possibilities. In Proceedings of the 5th International Conference on Technological Ecosystems for Enhancing Multiculturality (p. 47). ACM. DOI: https://doi.org/10.1145/3144826.3145397
Ocampo, J. F. G. (2017). Analysis of the use of Google Classroom, in the students of System Engineering of the Instituto Tecnologico de Mexicali. European Journal of Multidisciplinary Studies, 6(2), 60-62. DOI: https://doi.org/10.26417/ejms.v6i2.p60-62
O'Flaherty, J., & Phillips, C. (2015). The use of flipped classrooms in higher education: A scoping review. The internet and higher education, 25, 85-95. DOI: https://doi.org/10.1016/j.iheduc.2015.02.002
Rochmah, E., & Majid, N. W. A. (2018). Membangun virtual classroom melalui social learning networks (SLNS). Premiere Educandum: Jurnal Pendidikan Dasar Dan Pembelajaran, 8(1), 15-21. DOI: https://doi.org/10.25273/pe.v8i1.1832
Sewang, A. (2017). Keberterimaan Google Classroom sebagai alternatif Peningkatan Mutu di IAI DDI Polewali Mandar. JPPI: Jurnal Pendidikan Islam Pendekatan Interdisipliner, 2(1), 35-46.
Sohibun, S., & Ade, F. Y. (2017). Pengembangan Media Pembelajaran Berbasis Virtual Class Berbantuan Google Drive. Tadris: Jurnal Keguruan Dan Ilmu Tarbiyah, 2(2), 121-129. DOI: https://doi.org/10.24042/tadris.v2i2.2177
Soni, S. (2018). Optimalisasi Penggunaan Google Classroom, E-Learning & Blended Learning Sebagai Media Pembelajaran Bagi Guru dan Siswa di SMK Negeri 1 Bangkinang. Jurnal Pengabdian UntukMu NegeRI, 2(1), 17-20. DOI: https://doi.org/10.37859/jpumri.v2i1.361
Ventayen, R. J. M., Estira, K. L. A., De Guzman, M. J., Cabaluna, C. M., & Espinosa, N. N. (2018). Usability evaluation of google classroom: Basis for the adaptation of gsuite e-learning platform. Asia Pacific Journal of Education, Arts and Sciences, 5(1).
Wijaya, A. (2016, February). Analysis of Factors Affecting the Use of Google Classroom to Support Lectures. In The 5th International Conference on Information Technology and Engineering Application (ICIBA2016). Bina Darma University.