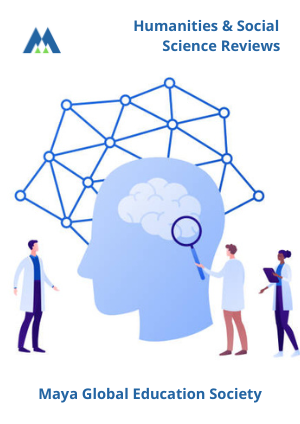 Issue
Authors retain the copyright without restrictions for their published content in this journal. HSSR is a SHERPA ROMEO Green Journal.
Publishing License
This is an open-access article distributed under the terms of
ROLE OF MEDIA IN SOCIAL AWARENESS
Corresponding Author(s) : Pradeep Kumar Dwivedi
inki2020@gmail.com
Humanities & Social Sciences Reviews, Vol. 1 No. 1 (2013)

Abstract
The media plays a very constructive role in today's society. Media play an important role in increasing of public awareness and collect the views, information and attitudes toward certain issue. Media is the most powerful tool of communication in emerging world and increased the awareness and presents the real stage of society.
In this decade of Knowledge and awareness there is a huge and grand role of media, it is all around us when we watch on Television, listen to on the radio, read to the books, magazines, and newspapers, every where we want to collect some knowledge and information and a part of this media has to present a very responsible role for our society. Without the media, people in societies would be isolated, not only from the rest of the world, but also for the total formation of creditable world.
Keywords
Sociology
media
social media
social awareness
Dwivedi, P. K., & Pandey, I. (2013). ROLE OF MEDIA IN SOCIAL AWARENESS. Humanities & Social Sciences Reviews, 1(1), 67-70. Retrieved from https://mgesjournals.com/hssr/article/view/hssr1110
Download Citation
Endnote/Zotero/Mendeley (RIS)
BibTeX
References
Carafano, James. "Successful Revolution Takes More than Social Media." The Examiner: n/a. ProQuest. Feb 22 2011. Web. 22 Feb. 2012.
"Grasp of Social Media Not enough to Instigate Change in Lebanon." The Daily Star: n/a. ProQuest. Mar 16 2011. Web. 22 Feb. 2012.
"Social Media a Catalyst for Political Reforms" Khaleej Times 1 Mar. 2011. ProQuest. Web. 16 Feb. 2012.
Tancer, B.2007.Facebook: more popular than porn. Time
Business(Oct31).http://www.time.com/time/business/article.
World bank Publication ,2002 "The right to tell".
Singh,A.K., "Role of Media in Indian Democracy",2010.
World Bank Report ,2006.
Dorothy, A.Clark, Race, "Poverty, and the Role of Media." 1994