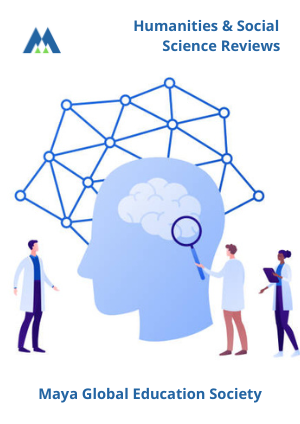 Issue
Authors retain the copyright without restrictions for their published content in this journal. HSSR is a SHERPA ROMEO Green Journal.
Publishing License
This is an open-access article distributed under the terms of
A Study on Tricycle Sign Systems: A Reflection of Filipino Optimism, Masculinity, Religiosity, and Values
Corresponding Author(s) : Kristinne Joyce
kristinnejoyce@gmail.com
Humanities & Social Sciences Reviews, Vol. 3 No. 2 (2015)

Abstract
Tricycle, the most popular mode of transportation in the countryside, has served as a means to articulate one's thoughts. The signages posted on these usually express humor, wit, spirituality and sexual thoughts. The researchers believe that the language utterances displayed on these tricycles may be influenced by a number of social factors. The paper answered these questions: What are the signages found in tricycles traversing Tuguegarao proper? What do these signages in language reflect the lived world or thoughts of the tricycle drivers? Or their social background? How do these signages correlate to social factors? This paper used the descriptive design in examining the signages that were gathered from 100 tricycle driver respondents in Tuguegarao City. Analysis of the signages is strengthened through Barthesian's sign systems. Drawing on the social constructionism, the paper highlights the following: First, tricycles have become a medium of Filipino expression where the vehicles communicate the drivers' worldviews.
The gathered signages reflected some Filipino values and traits such as optimism and fatalism; masculinity and machismo; religiosity and social cohesion; and hard work and cultural capital. Second, the paper holds that language may be understood by looking into the relationship between the signifier and the signified. The signages used by the tricycle drivers reflect not only their explicit thoughts, but also symbolic meanings and their habitus. Lastly, language has fulfilled its metalinguistic function as the signages were analyzed to show that these were representations of one's cultural behavior.
Keywords
Language
Culture
Semiotics
Communication
Sign systems
Joyce, K., & Miguel, C. A. (2016). A Study on Tricycle Sign Systems: A Reflection of Filipino Optimism, Masculinity, Religiosity, and Values. Humanities & Social Sciences Reviews, 3(2), 49-56. https://doi.org/10.18510/hssr.2015.322
Download Citation
Endnote/Zotero/Mendeley (RIS)
BibTeX
References
Abad, R. (2001). Religion in the Philippines. Philippine Studies. Vol. 49. No. 3. Quezon City: Ateneo de Manila University. p337-367.
Barthes, R. (1957, 1987). Mythologies. New York: Hill & Wang.
Barthes, R. (1964). Elements of Semiology. New York: Hill and Wang. Available from: http://www.marxists. org/reference/subject/philosophy/works/fr/barthes.htm. Accessed on 9.10.2013.
Barthes, R. (1977). Image-Music-Text. London: Fontana.
Bernstein, B. (1971). Class, Codes and Control. Vol. 1. London: Routledge and Kegan Paul.
Bostrom, L.C. (1968). Filipino bahala na and American fatalism. Siliman Journal, 15(3), 399-413.
Bourdieu, P. (1986). The forms of capital. Available from: http://www.marxists.org/reference/subject/philosophy /works/fr/bourdieu-forms-capital.htm. Accessed 03.02.2014.
Bjurstrom E. (1995). Baby You Can Drive My Car. Bilen Och Motorcykeln Som Konskultur. In: Bolin, G. & Lovgren, K. (eds) Om unga man, Lund: Studentlitteratur.
Chandler, D. (2013). Semiotics for Beginners. Available from: http://www.users.aber.ac.uk/dgc/Documents/S4B/ sem06.html. Accessed 28.12.2013.
Connell, R.W. (1995). Masculinities. St Leonards, NSW: Allen and Unwin. p165.
De Leon, A. (2013). Read between the signs: The Jeepney linguistic system. Paper Presented during the 7th National Social Science Congress held at PSSC Commonwealth Quezon City on May 29-30, 2013.
Durkheim, E. (2001). Elementary Forms of Religious Life. (Trans). New York: Oxford University Press.
Frykman J. & Lofgren O. (1987). Culture Builders: A Historical Anthropology of Middle –Class Life. Trans. Alan Crozier. New Brunswick: Rutgers University Press.
Gergen, K. (1999, 2009). An Invitation to Social Construction. 2nd ed. Thousand Oaks, CA: Sage. Los Angeles, CA: Sage.
Gorospe, V.R. (2007). Understanding the Filipino value System. Available from: http://www.crvp.org/book/ Series03/III-7/chapter_vi.htm. Accessed 07.02.2014.
Gripaldo, R.M. (2005). Bahala na (Come what may): A philosophical analysis. In: Ceniza, C.R., & Gripaldo, R.M., (Eds.). Filipino Cultural Traits. Washington, DC: Council for Research in Values and Philosophy.
Isip, I. (1999). Understanding Filipino values, attitudes and practices for their basic Christian dimension. Available from: http://www.usfcmc.tripod.com/sitebuildercontent/ sitebuilderfiles/filipino_values.pdf. Accessed 07.02.2014.
Jeffords, S. (1994). Hard Bodies: Hollywood Masculinity in the Reagan Era. New Brunswick, NJ: Rutgers University Press. p112.
Kibby, M. (1996). Cyborgasm: Machines and male hysteria in the cinema of the eighties. Journal of Interdisciplinary Gender Studies, 1, 139-146.
Kottak, C.P. (1991). Anthropology: The Exploration of Human Diversity. 5th ed. New York: McGraw Hill, Inc.
Lara-de Leon, K., & Zhoumaoji. (2005). Masculinity as perceived by the lower/working class. Paper Presented to the Faculty of the Department of Sociology and Anthropology, Ateneo de Manila University.
Licuanan, P. (2014). Moral Recovery Orogram: Building a Nation. Available from: http://www.crvp.org/book/ Series03/III-7/cha pter_iv.htm. Accessed 07.02.2014.
Littlejohn, S. (2002). Theories of Human Communication. Albuquerque: Wadsworth.
Louis, J. (1961). In: Whitfield, F.J., (Ed.). [Trans.] Prolegomena to a Theory of Language. Trans. Madison: University of Wisconsin Press. (GL).
Neiger, A. (2003). The narrated body: The representation of corporeality in contemporary literature. In: Mediating the Human Body: Technology, Communication and Fashion. Mahwah, N.J, London: Lawrence Erlbaum Associates. p51-59.
Paul, W. (1994). Looks and Frictions: Essays in Cultural Studies and Film Theory. London: BFI/Bloomington, IN: Indiana University Press.
Varney, W. (2002). Of men and machines: Images of masculinity in boy's toys. Feminist Studies, 28(1), 154-174.
Winter, M.F., & Robert, E.R. (1980). Male dominance, late capitalism, and the growth of instrumental reason. Berkeley Journal of Sociology, 24, 249-280.