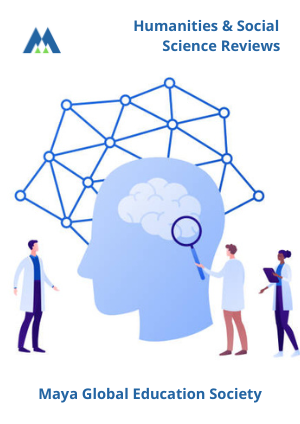 This work is licensed under a Creative Commons Attribution-ShareAlike 4.0 International License.
Authors retain the copyright without restrictions for their published content in this journal. HSSR is a SHERPA ROMEO Green Journal.
Publishing License
This is an open-access article distributed under the terms of
Population influx in the metropolitan city, Guwahati, and regional development of other districts in Assam
Corresponding Author(s) : Abhilasha Kashyap
abhilashakashyap38989@gmail.com
Humanities & Social Sciences Reviews, Vol. 10 No. 2 (2022): March

Abstract
Purpose of the study: The study is conducted to understand - the cause of rapid population migration from rural to urban areas in Assam, the availability of basic amenities in every household, different aspects of imbalance in regional development and suggestions to overcome from all these challenges.
Methodology: The whole research was based on online survey data. Data on various issues being faced by the residents of Guwahati as well as small towns of Assam were collected from the respondents.
Main Findings: The increase in rural dwellers, students and service people blindly pouring into cities creates problems both for the city dwellers and planners. The problems are already visible in their daily lives. 
Applications of the study: This study is useful in understanding the causes and impact of the imbalance in the regional development of the state of Assam.
Novelty/Originality of the study: There have been various researches on the regional development of Assam state before but in the recent 4-5 years urbanization in the city has increased which still indicates the need for change in policies and infrastructures. This study has been conducted to give solutions to the existing problems of increasing migration of residents from small districts to the main city of Guwahati.
Keywords
Geography
Urban Planning
Regional Development
Population Influx
India
Assam
Kashyap, A. (2022). Population influx in the metropolitan city, Guwahati, and regional development of other districts in Assam. Humanities & Social Sciences Reviews, 10(2), 01-06. https://doi.org/10.18510/hssr.2022.1021
Download Citation
Endnote/Zotero/Mendeley (RIS)
BibTeX
References
Bhuyan, P.L., & Das, N.C. (1995). The Trend of North East Region's urban development, with particular reference to Assam. Deep & Deep Publications.
Borah, D. J. (n.d.). THE RURAL-URBAN MIGRATION PATTERN IN GUWAHATI'S ENVIRONMENT. 13. https://www.unil.ch/files/live/sites/igu-urban/files/shared/jayasreeborah.pdf
Hazarika, D. M. P. (2015). Sanitation and Its Impact on Health: A Study in Jorhat, Assam. International Journal of Scientific and Research Publications, 5(10), 11. http://www.ijsrp.org/research-paper-1015/ijsrp-p4629.pdf
Lampard, E. (1966). Historical aspects of urbanization (P. Hauser & L. Schnore, Eds.).
NA. (NA, NA NA). Gauhati, India Metro Area Population 1950-2022 | MacroTrends. Macrotrends. Retrieved January 3, 2022, from https://www.macrotrends.net/cities/21261/gauhati/population
Nath, V. (2007). Urbanization, Urban Development, and Metropolitan Cities in India (S. K. Aggarwal, Ed.). Concept Publishing Company.
Paul, P. K., Jana, S. K., & Maiti, A. (2019). An Analysis of Health Status of the State of Assam, India. Research review International Journal of Multidisciplinary, 4.
Rao, Prakash, V.L.S., & Tiwari, V.K. (1986). Urbanization in India, Spatial Dimension (P.D. Mahadev, Ed.). Contributions to Indian Geography, VII, 193-214. http://bhattadevuniversity-opac.koha.co.in/cgi-bin/koha/opac-detail.pl?biblionumber=3683&shelfbrowse_itemnumber=6536
Ray, R., & Borer, M. I. (2018). Urbanism and Urbanization. (A. J. Treviño, Ed.; Vol. 2). Cambridge University Press. DOI: https://doi.org/10.1017/9781108550710.028
Robinson, R. (2013). Small Cities and Towns in Global Era: Emerging Changes and Perspectives (R. S. Sandhu & R. N. Sharma, Eds.). Rawat Publications.
Saghir, J., & Santoro, J. (2018). Urbanization in Sub-Saharan Africa. In Meeting Challenges by Bridging Stakeholders. Washington, DC, USA: Center for Strategic & International Studies. http://thegreentimes.co.za/ wp-content/uploads/2019/03/Urbanization-in-Sub-Saharan-Africa.pdf
Sandhu, R. S., & Sharma, R. N. (Eds.). (2013). Small Cities and Towns in Global Era: Emerging Changes and Perspectives. Rawat Publications.
UN (2018). E/CN.9/2018/2. Undocs.org. http://undocs.org/E/CN.9/2018/2
Yao, J., Xu, P., & Huang, Z. (2021). Impact of urbanization on ecological efficiency in China: An empirical analysis based on provincial panel data. 129, 16. https://doi.org/10.1016/j.ecolind.2021.107827 DOI: https://doi.org/10.1016/j.ecolind.2021.107827