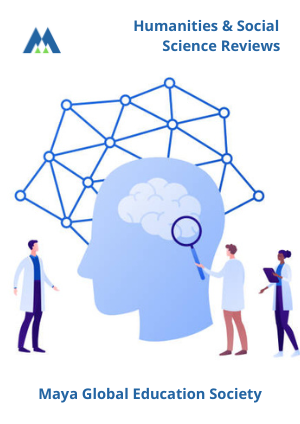 This work is licensed under a Creative Commons Attribution-ShareAlike 4.0 International License.
Authors retain the copyright without restrictions for their published content in this journal. HSSR is a SHERPA ROMEO Green Journal.
Publishing License
This is an open-access article distributed under the terms of
Security structure of the European Union
Corresponding Author(s) : Magdalena Molendowska
magdalena.molendowska@ujk.edu.pl
Humanities & Social Sciences Reviews, Vol. 10 No. 2 (2022): March

Abstract
Purpose of the study: The object of the analysis is to assess the effectiveness of the European Union in ensuring internal and external security. 
Methodology: the article was prepared based on critical analysis of literature and documents and uncontrolled observation method.
Main findings: the established institutions and agencies within the EU may appear to be adequate and competent. However, in reality, their effectiveness and coherence of activities aimed at fulfillment of common safety objectives often fail to meet expectations, whereas systems and operating procedures differ from the solutions used in practice. The multidimensionality of security, and above all the evolution of the challenges in terms of the ever-changing security environment, will require the EU to establish new institutions or equip existing ones with new competences.
Application of the study: security forecasting based on the main variables emerging in the contemporary security environment and adapting the EU institutional security architecture to new threats.
Original/Novelty of the study: the subject matter is very current, being a member of the EU, we participate in the identified problem.
Keywords
Security
Structure
European Union
References
Agencja Praw Podstawowych Unii Europejskiej, https://europa.eu/european-union/about-eu/agencies/fra_pl [dostęp 15.04.2021].
Barcz, J., Górka, M., Wyrozumska, A. (2020), Instytucje i prawo Unii Europejskiej, Warszawa: Wolters Kluwer Polska, ss. 552.
CIVEX (2018), Tackling online disinformation: a European approach, CDR 3908/2018,
https://cor.europa.eu/PL/our-work/Pages/OpinionTimeline.aspx?opId=CDR-3908-2018 [dostęp 10.04.2021].
Decyzja Rady z dnia 22 grudnia 2000 r. ustanawiająca Europejskie Kolegium Policyjne (CEPOL) (2000/820/WSiSW), Dz. Urz. WE L 336/1.
DG Justice and Consumers (2019), Annual activity report 2018, Ref. Ares(2019) 2459053 – 08/04/2019.
DG Migration and Home Affairs (2016), Strategic plan 2016-2020, Ref. Ares(2016) 2231546 – 12/05/2016, ss. 40
Dumała, A. (2002), Agencje w systemie Unii Europejskiej, w: Dumała, A. (red.), Agencje Unii Europejskiej, Warszawa: Urząd Komitetu Integracji Europejskiej, ss. 269.
Europejski Instytut ds. Równości Kobiet i Mężczyzn, Wskaźnik równouprawnienia,
płci, https://eige.europa.eu/pl/in-brief [dostęp 22.04.2021].
Fontaine, P. (red.) (2010), Europejska Polityka Obronna. Mały Przewodnik 2010, Bruksela: Grupa EPL w Parlamencie Europejskim, ss. 21.
Franco-British St. Malo Declaration (4 December 1998), British-French Summit, Saint-Malo, 3-4.12.1998, https://www.cvce.eu/en/obj/franco_british_st_malo_declaration_4_december_1998-en-f3cd16f b-fc37-4d52-936f-c8e9bc80f24f.html [dostęp 6.05.2021].
Komisja Wolności Obywatelskich, Sprawiedliwości i Spraw Wewnętrznych, https://www.socialistsanddemocrats.eu/pl/committees/komisja-wolnosci-obywatelskich-sprawiedliwosci-i-spraw-wewnetrznych [dostęp 26.03.2021].
Nitszke, A. (2017), System agencji Unii Europejskiej, Kraków: Krakowska Oficyna Naukowa Tekst, ss. 226.
Nowicka, A. (2013), Pojęcie agencji Unii Europejskiej i ich rola we współczesnym administrowani, w: Gronkiewicz, A., Ziółkowska, A. (red.), Agencje i podmioty podobne w strukturze administracji publicznej, Katowice: Forma Studio, ss. 247.
Rada ds. Wymiaru Sprawiedliwości i Spraw Wewnętrznych (WSiSW),
https://www.consilium.europa.eu/pl/council-eu/configurations/jha/ [dostęp 26.03.2021].
Rozporządzenie Parlamentu Europejskiego i Rady (WE) nr 460/2004 z dnia 10 marca 2004 r. ustanawiające Europejską Agencję ds. Bezpieczeństwa Sieci i Informacji, Dz. Urz. UE L 77/1.
Rozporządzenie Rady (WE) nr 1035/97 z dnia 2 czerwca 1997 r. ustanawiające Europejskie Centrum Monitorowania Rasizmu i Ksenofobii, Dz. Urz. WE L 151.
Rozporządzenie Rady (WE) nr 168/2007 z dnia 15 lutego 2007 r. ustanawiające Agencję Praw Podstawowych Unii Europejskiej, Dz. Urz. UE L 53.
Safjański, T. (2013), Działania operacyjne Europolu, Szczytno: Wydział Wydawnictw i Poligrafii Wyższej Szkoły Policji w Szczytnie, ss. 360.
Schweng, Ch. (2018), Period 2018-2020. End of mandate report. Section for Employment, Social Affairs and Citizenship, https://www.eesc.europa.eu/sites/default/files/files/soc_end-of-mandate_report_2018-2020_en.pdf [dostęp 7.04.2021].
Stańczyk, J. (2009), Grupy bojowe jako instrument polityki reagowania kryzysowego Unii Europejskiej, w: Studia Europejskie, Nr 4(52), s. 33-58.
Wojtaszczyk, K. A. (2005), Instytucje w systemie politycznym Unii Europejskiej, w: Wojtaszczyk, K. A. (red.), System instytucjonalny Unii Europejskiej, Warszawa: Oficyna Wydawnicza ASPRA-JR, ss. 537.