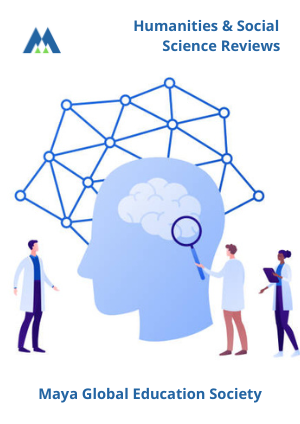 This work is licensed under a Creative Commons Attribution-ShareAlike 4.0 International License.
Authors retain the copyright without restrictions for their published content in this journal. HSSR is a SHERPA ROMEO Green Journal.
Publishing License
This is an open-access article distributed under the terms of
An overview of the underlying legal and psychological issues of surrogacy in Islam
Corresponding Author(s) : Musferah Mehfooz
musferahmehfooz@cuilahore.edu.pk
Humanities & Social Sciences Reviews, Vol. 10 No. 3 (2022): May

Abstract
Purpose of the study: This paper attempted to deal with the issue of Surrogacy from various angles by considering the very essence of Islamic law, i.e., of Shariah. Procreation has considered sacred in Islam; no doubt, it is one of the five fundamental objectives of Shariah (Islamic law), notwithstanding the protection of self, religion, honor, and property. In Muslim societies, religion strongly influences behavior, culture, practices, and policy-making; therefore, according to the Islamic viewpoint, just legitimate pregnancy would result from intermingling sperm and ovum of a legitimately wedded couple.
Research methods: The methodology applied in the discussion is a critical analysis based on inductive and deductive approaches to the collected data. The data for this study has been collected from various secondary sources like Academic Research Papers, Research Journals, and other Electronic Sources.
Main findings: the conclusion arrived at in the article is that Surrogacy is of various categories, some of which may be Islamically valid and some others invalid. In light of the discussion, it is also concluded that Surrogacy also leads to psychological confusion over the question of motherhood, which Islam considers the highest form of human love and compassion.
Application of the study: This study would leave significant implications for legal and social dimensions. The only way to minimize the differences of opinions over any issue in Islamic jurisprudence is deliberation over the issue concerned from the angle of the objectives of Sharīᶜah (Maqāsid al-Sharīᶜah). The issue of Surrogacy as to its validity or invalidity from the Islamic perspective may be resolved in this way. Therefore, the study would doubtlessly help reduce social, physiological, and legal issues based on surrogate practice.
Originality and novelty of the study: The least attention has been given to legal and psychological issues in the existing literature. The present study aims to deal with the legal, psychological, and even social issues caused by the practice of Surrogacy. Therefore, this is the first study that has investigated the practice of Surrogacy from multiple perspectives, particularly analyzing them in the framework of the objectives of Sharīᶜah.
Keywords
Surrogacy
Pregnancy
Maqāsid al-Sharīᶜah
In Vitro Fertilization
Juristic Views
Mehfooz, M., Imran, A., & Azhar, S. (2022). An overview of the underlying legal and psychological issues of surrogacy in Islam. Humanities & Social Sciences Reviews, 10(3), 23-28. https://doi.org/10.18510/hssr.2022.1033
Download Citation
Endnote/Zotero/Mendeley (RIS)
BibTeX
References
Abbasi-Shavazi, M. J., Inhorn, M. C., Razeghi-Nasrabad, H. B., & Toloo, G. (2008). The "Iranian ART Revolution" infertility, assisted reproductive technology, and third-party donation in the Islamic Republic of Iran. Journal of Middle East Women's Studies, 4(2), 1-28. https://doi.org/10.2979/MEW.2008.4.2.1
Islam, S., Nordin, R. B., Ab Rani Bin Shamsuddin, H. B., Nor, M., & Al-Mahmood, A. K. (2012). Ethics of Surrogacy: a comparative study of Western secular and Islamic bioethics. The Journal of IMA, 44(1), 1-5. https://doi.org/10.5915/44-1-5920
Andrews, L. B., & Douglass, L. (1991). Alternative reproduction. S. Cal. L. Rev., 65, 623.
Van Niekerk, A., & Van Zyl, L. (1995). The ethics of Surrogacy: women's reproductive labor. Journal of medical ethics, 21(6), 345-349. https://doi.org/10.1136/jme.21.6.345
Abu-Rabia, A. (2013). Infertility and surrogacy in Islamic society: Socio-cultural, psychological, ethical, and religious dilemmas. The Open Psychology Journal, 6(1) 54-60. https://doi.org/10.2174/18743501013 06010054
Armour, K. L. (2012). The Lived Experiences of Intended Parents During Surrogate Pregnancy and Transition to Parenthood concerning the United States Healthcare System.
Atighetchi, D. (2007). Islamic bioethics: problems and perspectives (Vol. 31). Dordrecht: Springer. https://doi.org/10.1007/978-1-4020-4962-0
Behjati, A. (2008). Consultations and Health Assessments in Surrogacy. Med J Reprot Infertile, 9, 107–14.
Clarke, M. (2013). Children of the revolution:'Ali Khamene'i's 'Liberal'views on in vitro fertilization. In Iranian Intellectuals (pp. 33-50). Routledge.
Crawshaw, M., Blyth, E., & van den Akker, O. (2012). The changing profile of Surrogacy in the U.K.–Implications for national and international policy and practice. Journal of Social Welfare and Family Law, 34(3), 267-277. https://doi.org/10.1080/09649069.2012.750478
Dimyati, H. S. (1986). Permainan Buatan dan Bayi Tabung. Jakarta: Universitas Muhammadiyah.
Farag, F. (2001). Legislating morality. Al-Ahram.
Fazli, D, (2017). The Status of Surrogacy, Surrogate Mother in Islamic Law: A Critical Analysis. J. Appl. Environ. Biol. Sci., 7(7), 31-38.
Khalaf, Z. F., Shafiabadi, A., & Tarahomi, M. (2008). Psychological aspects of surrogate motherhood. Journal of Reproduction & Infertility, 9(1).
Fox, M. (2009). The Human Fertilisation and Embryology Act 2008: tinkering at the margins. Feminist legal studies, 17(3), 333-344. https://doi.org/10.1007/s10691-009-9129-2
Garmaroudi, S. (2008). Gestational Surrogacy in Iran. Journal of Reproduction & Infertility, 9(1).
Inhorn, M. C. (2006). Making Muslim babies: IVF and gamete donation in Sunni versus Shi'a Islam. Culture, medicine, and psychiatry, 30(4), 427-450. https://doi.org/10.1007/s11013-006-9027-x
Kabir, Banu az-Zubair. (2007). Who is a parent? Parenthood in Islamic ethics. Journal of medical ethics, 33(10), 605-609. https://doi.org/10.1136/jme.2005.015396
Larkey, A. M. (2002). Redefining motherhood: Determining legal maternity in gestational surrogacy arrangements. Drake L. Rev., 51, 605.
Mirza, B. (2004). Islamic Perspectives on Biotechnology. In Brannigan, Michael C. Cross-Cultural Biotechnology: A Reader, 105–114.
Ragoné, H. (1994). Surrogate Motherhood: Conception in the Heart. Boulder. Westview Press. Real Decreto, 412.
Rahimi, H. A. (2008). Civil responsibility in Surrogacy. Journal of Reproduction & infertility, 9(2).
Robertson, J. A. (1983). Surrogate mothers: Not so novel after all. Hastings Center Report, 28-34.
Al-Bukhari, I. (2004). Sahih al-Bukhari, Book of Good Manners and Form (Al-Adab), Cairo: Dar al-Shuruq.
Serour, G.I., (2006). Contemporary ethical dilemmas in assisted reproduction. In: Shinfield F, Sureau C, Eds. Religious Perspectives of Ethical Issues in ART. U.K.: Informa Health Care: 99-114.
Serour, G.I., (1998). Reproductive Choice: A Muslim Perspective. Clarendon Press, Oxford, 191– 202.
Shaltut, M. (1975). Al-Fatawa: dirasah li-mushkilat al-Muslim al-mu'asir fi hayatih al-yawmiyah wa-al-'ammah. Cairo: Dar al-Shuruq.
Usman, K. G., & Daud, N. (2017). Surrogate Mother According to Science and the Opinions of Contemporary Islamic Scholars. International Journal of Academic Research in Business and Social Sciences, 7(8), 2222-6990. https://doi.org/10.6007/IJARBSS/v7-i8/3210
Van den Akker, O. B. (2007). Psychosocial aspects of surrogate motherhood. Human reproduction update, 13(1), 53-62. https://doi.org/10.1093/humupd/dml039
Van Gorder, A. C. (2014). Islam, Peace and Social Justice: A Christian Perspective. ISD LLC. https://doi.org/10.2307/j.ctt1cgf4nt
Zahedi, F., & Larijani, B. (2008). National bioethical legislation and guidelines for biomedical research in the Islamic Republic of Iran. Bulletin of the World Health Organization, 86, 630-634. https://doi.org/10.2 471/BLT.08.050724