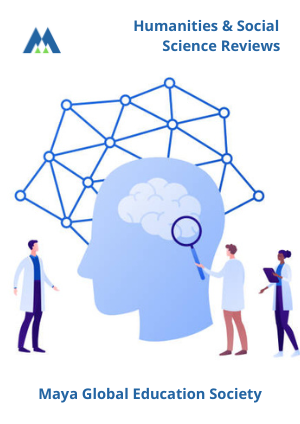 Issue
Authors retain the copyright without restrictions for their published content in this journal. HSSR is a SHERPA ROMEO Green Journal.
Publishing License
This is an open-access article distributed under the terms of
THE IMPLEMENTATION OF HONESTY VALUE IN EARLY YEARS CHILDREN THROUGH SNAKE AND LADDER MEDIA
Corresponding Author(s) : Endah Hendarwati
endah.17070996007@mhs.unesa.ac.id
Humanities & Social Sciences Reviews, Vol. 7 No. 3 (2019): May

Abstract
Purpose of Study: This research aims to explain children's honesty through the snake and ladder media. This study was conducted in Cahaya early childhood education age 4-5 in Jembatan Merah, Surabaya. By choosing this media as a supporting medium that allows children to be honest. This research will bring the child into real-time situations to introduce moral education through a field trip. There were several aspects that must be considered in determining the purpose of planting honesty in early childhood, there were age, physical aspects and psychological aspects of children. Several factors can also influence the development of the child's honesty value, innate (internal) and environmental (external) factors.
Methodology: This research used qualitative research to describe the results. Subjects this research were 9 children of Cahaya early childhood education aged 4-5 years in Jembatan Merah Surabaya, with the reason that in this institution happened the problem of children still not able to care and keep everything, to say honestly, admitted a mistake and forgive a friend who was mistaken. This research used descriptive qualitative data analysis. The research instrument was obtained through observation with the observation sheet, interview with teacher and child, and documentation during activity with snake ladder media.
Results: The results of research, it was known that the children were able to care and keep things together, accustomed, to tell the truth, willing to admit mistakes, apologize if they were wrong and forgive friends who were mistaken. The four indicators seen children begin to develop so honesty in children can be taught in schools by using the snake ladder media honesty.
Implications/Applications: The implantation of early years children's honesty can be conducted through learning activities that use interactive media to children. In accordance with Gagne's opinion, media is the various types of components in the student environment that can stimulate students to learn.
Keywords
Implementation
Honesty Value
Snake and Ladder Media
Hendarwati, E., ., W., & Setiawan, A. (2019). THE IMPLEMENTATION OF HONESTY VALUE IN EARLY YEARS CHILDREN THROUGH SNAKE AND LADDER MEDIA. Humanities & Social Sciences Reviews, 7(3), 491-496. https://doi.org/10.18510/hssr.2019.7372
Download Citation
Endnote/Zotero/Mendeley (RIS)
BibTeX
References
Department of Education and Culture. Indonesian dictionary. Jakarta: Balai Pustaka.
Hidayatullah, M Furqon. 2010. Character Education (Building civilization of Nation). Surakarta: Yuma Pustaka.
Dorothy L. Prestwich. 2003 Character Education in America's Schools. The School Community Journal, Volume 5, Issue 1. [March, 2003].
Matandare, M. A. (2018). Botswana Unemployment Rate Trends by Gender: Relative Analysis with Upper Middle Income Southern African Countries (2000-2016). Dutch Journal of Finance and Management, 2(2), 04. https://doi.org/10.20897/djfm/3837
Fadillah, Dkk. 2013. Character Education. Jakarta: Ar-ruz Media.
Isna, Nurla. 2012. Printing Characters Childhood Fetal. Yogyakarta: Diva Pers.
Ghazanfarpour, H., Pourkhosravani, M., & Mousavi, S. E. (2013). Geomorphic systems affecting the Kerman, UCT Journal of Social Sciences and Humanities Research, 1(1): 6-11.
Ibung, D. 2009. Developing Moral Values in Children. Jakarta: PT Elex Media Komputindo Group Gramedia.
Hendri, 2013. Character Education. Bandung: Simbiosa Rekatama Media.
Muhina, T., Aboimova, I., Kulagina, A., Trophimov, V., & Chigarov, E. (2016). Development of emotional intelligence of students as a condition of successful adaptation to training. International Electronic Journal of Mathematics Education, 11(10), 3463-3467.
Arikunto, Suharsimi. 2006. Research Procedure; A Practical Approach. Jakarta: Rineka Cipta.
Sanjaya, 2014. Learning Strategy oriented Standart Education Process. Jakarta. Prenada Media Grup (kencana).
Burgos, Alex Veliz, et al. "Democracia, Gobernanza y Conductas éticas: ejes transversales en la formación." Opción34.86 (2018): 152-175.
Knight, A. and LaGasse, A. (2012). Re-connecting to music technology: Looking back and looking forward. Music Therapy Perspectives, 30(2), 188-195
Muchlas et al.. 2014. Character Education. Bandung :PT. Remaja Rosdakarya
Munir, Abdullah. 2010. Character Education. Yogyakarta :PT. Pustaka Insan Madani
Zare, H., & Rajaeepur, S. (2013). THE TASKS OF SOCIAL WORKERS WORKING WITH CHILDREN OF DIVORCE: A REVIEW, UCT Journal of Management and Accounting Studies, 1(1): 5-10.
Takdir, Muhammad,2013. Inklusif Education. Jakarta :Ar-Ruz Media.
Yusriana, Ajeng. 2012. Paud Teacher. Yogyakarta : Diva Press.