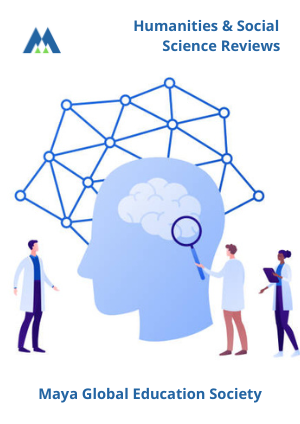 Authors retain the copyright without restrictions for their published content in this journal. HSSR is a SHERPA ROMEO Green Journal.
Publishing License
This is an open-access article distributed under the terms of
GAME TECHNIQUES AS A METHOD OF THE EDUCATIONAL PROCESS INTENSIFICATION IN TEACHING A FOREIGN LANGUAGE
Corresponding Author(s) : Ekaterina A. Plakhova
ekaterine.plkh@gmail.com
Humanities & Social Sciences Reviews, Vol. 7 No. 6 (2019): November

Abstract
Purpose of the study: The realities of the modern world order explain the increasing interest in learning a foreign language and require a search for ways and means of intensifying the educational process. The concept of modernization of the Russian higher education system requires the use of technologies that ensure the differentiation and individualization of education (the Ministry of Education).
Methodology: Cultural approach. Basis: axiology - the study of values and value structure of the world. It is conditioned by the objective connection of a person with culture as a value system. The game is focused on group activity, which fully meets the needs of modern methods. It is also easily transformed into various forms of individual activity, giving every student an opportunity to try himself in a particular role to show individual abilities.
Results: The goal of teaching foreign languages at the present stage is not a language system, but foreign language speech activity, and not by itself, but as a means of intercultural interaction. Using educational games allows you to apply the language material creatively, turn foreign language classes into a process of communication, discussion, research. The educational project, from the point of view of the student, is the possibility of maximizing your creative potential. This is an activity that will allow expressing oneself individually or in a group, trying one's hand, applying one's knowledge, benefit, and publicly showing the achieved result.
Applications of this study: This research can be used for the universities, teachers, and students.
Novelty/Originality of this study: In this research, the model of the Game Techniques as a Method of the Educational Process Intensification in Teaching a Foreign Language is presented in a comprehensive and complete manner.
Keywords
Student
language
education
techniques
foreign language
innovative technologies
A. Plakhova, E., N. Kharapudko, E., & R. Nurmieva, R. (2019). GAME TECHNIQUES AS A METHOD OF THE EDUCATIONAL PROCESS INTENSIFICATION IN TEACHING A FOREIGN LANGUAGE. Humanities & Social Sciences Reviews, 7(6), 38-44. https://doi.org/10.18510/hssr.2019.769
Download Citation
Endnote/Zotero/Mendeley (RIS)
BibTeX
References
Anikeeva, N. P. (1987). Upbringing by game. Teachers book.
Arzamastseva, N. I. (2007). Organization and use of games when forming foreign-language grammatical skills at pupils: methodology. Yoshkar-Ola: MGPI of NK Krupskaya.
Bahremand, A. (2015). The concept of translation in different teaching approaches and methods. UCT Journal of Social Sciences and Humanities Research, 3(1), 5-9.
Bern, E. (1988). Games people play. Progress, 400 p.
Biryukova, N. A. Maslennikova, Yu. V. (1997). Learning English, playing. Modern technologies of teaching foreign languages. Materials of the Republican scientific-practical conference. Yoshkar-Ola: Mari, 138-143;
Bocharova, L. N. (1996). Games on the lessons of English at the primary and secondary levels of education. Bocharova. Foreign languages at school, 3, 50-55;
Galskova, N. D. (2006). Gez NI Teoriia obucheniia inostrannym iazykam. Lingvodidaktika i metodika (Theory of Teaching Foreign Languages. Lingvodidactics and Methodology).
Govéne, E. The Game in the Lesson of a Foreign Language. Questions of the Methodology of Teaching Foreign Languages Abroad / Comp. E.V. Sinyavskaya, M.M. Vasilyeva, S.V. Kalinin. - M .: Enlightenment. - P.130-135;
Gubareva T.S. (2006). The formation of a communicatively competent personality of a gymnasium-students. The work of the Department of General Pedagogy OSU. 2 190-195. (Gubareva T.S. (2006)
Iravani, M. R., Niknejadi, F., & Jahandoost, Z. (2015). The Relationship Between Age And Job Satisfaction Consultants Government Girls High School In Isfahan In 2012-2013 Academic Year. Health, 70(22.65), 24.
Khuziakhmetov, A. N, Valeev, A. A, Kralova, Z. (2018). The most important aspects of early foreign-language education in primary schools. Xlinguae, 11(2), 370-382. https://doi.org/10.18355/XL.2018.11.02.30 DOI: https://doi.org/10.18355/XL.2018.11.02.30
Konysheva, A. V. (2008). Game method in teaching foreign languages. M.: Publishing House" Four Quarters.
Kuvshinov, V. I. (1993). Games in English classes. Foreign languages at school, 2, 26-28;
Luo, C., Li, M., Peng, P., & Fan, S. (2018). How Does Internet Finance Influence the Interest Rate? Evidence from Chinese Financial Markets. Dutch Journal of Finance and Management, 2(1), 01. https://doi.org /10.20897/djfm/89590 DOI: https://doi.org/10.20897/djfm/89590
Maslyko, E. A., & Babinskaya, P. K. (1999). Handbook of a foreign language teacher. Minsk: Higher School, 522p.
Ministry of Education, 2002). Ministry of Education. (2002). The concept of general education. Moscow: Ministry of Education (Ministerstvo Obrasovaniya. (2002).
Novikova, I. N., Popova, L. G., Shatilova, L. M., Biryukova, E. V., Guseva, A. E., & Khukhuni, G. T. (2018). Lexical and semantic representation of the linguistic and cultural concept "Rest" in the English, German, and Russian languages. Opción, 34(85-2), 237-256.
Oliveira, F. K. D., Oliveira, M. B. D., Gomes, A. S., & Queiros, L. M. (2018). Identifying User Profiles from Statistical Grouping Methods. Journal of Information Systems Engineering & Management, 3(1), 06. https://doi.org/10.20897/jisem.201806 DOI: https://doi.org/10.20897/jisem.201806
Petrichuk, I. I. (2008). Once again about the game. Foreign language in school, 2, 37-42;
Stronin, M. F. (2001). Educational Games at an English Lesson. Teacher of the year, 1, 25-26;
Vathi Muniandy, P., B.Othman, A. J., & Jamaluddin, S. (2018). The Influence Of Self-Drive On The Development Of Malay Language Programme: Non-Native Adults' Perspective. Humanities & Social Sciences Reviews, 6(2), 74-83. https://doi.org/10.18510/hssr.2018.629 DOI: https://doi.org/10.18510/hssr.2018.629