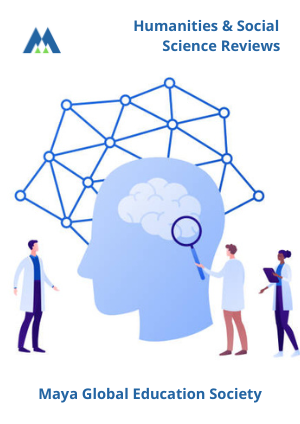 This work is licensed under a Creative Commons Attribution-ShareAlike 4.0 International License.
Authors retain the copyright without restrictions for their published content in this journal. HSSR is a SHERPA ROMEO Green Journal.
Publishing License
This is an open-access article distributed under the terms of
The impact of covid-19 and crisis shields on the financing of the catering business
Corresponding Author(s) : Anna Dereń
aderen@wsei.edu.pl
Humanities & Social Sciences Reviews, Vol. 10 No. 2 (2022): March

Abstract
Research objective: To point out the details of government aid directed, among others, to catering enterprises in the form of anti-crisis shields and financial shields and to try to assess their effectiveness by analysing the financial result for 2020 on the example of the selected enterprises.
Methodology: The study was conducted in the form of a literature review and a case study. The study was conducted in the two selected Polish restaurants, which differed in size, location and customer specification. The study included an analysis of financial documents.
Main Findings: The study results presented in this paper confirm that governmental aid was needed, although it was disproportionate. The question is whether it was always sufficient to stabilise the situation in a catering company, in an industry so badly affected by pandemic restrictions, during the COVID-19 crisis remains questionable.
Application of the study: The study finding is applicable in practical analysis and evaluation of the support provided by the government to catering entrepreneurs facing a pandemic in 2020.
Originality of the study: The paper combines theoretical and practical approaches to the subject of thesupport provided to entrepreneurs within the instruments of anti-crisis shields.
Keywords
Anti-crisis Shields
Financing
Sources of Financing
Financial Liquidity
Gastronomy
Dereń, A. (2022). The impact of covid-19 and crisis shields on the financing of the catering business. Humanities & Social Sciences Reviews, 10(2), 24-30. https://doi.org/10.18510/hssr.2022.1024
Download Citation
Endnote/Zotero/Mendeley (RIS)
BibTeX
References
Bednarski L. (2007), Analiza finansowa w przedsiębiorstwie, Warszawa: PWE.
Bednarz J., Gostomski E. (2018), Źródła i sposoby finansowania przedsiębiorstw, Gdańsk: Wydawnictwo Uniwersytetu Gdańskiego.
Biczysko W., Tauber R.D. (2003), Zarządzanie finansami w hotelarstwie, gastronomii i turystyce, Poznań: Wyższa Szkoła Hotelarstwa i gastronomii w Poznaniu.
Czerwińska - Kayzer, D. (2006), Alternatywne źródła finansowania długoterminowego w małych i średnich przedsiębiorstwach, Poznań: Roczniki Akademii Rolniczej w Poznaniu. Ekonomia, 5.
M. Dylewski (red.) (2016), Klasyczne podejście do finansowania działalności sektora MŚP [w:] Finanse małych i średnich firm. Innowacje, decyzje, procesy", Warszawa: Wydawnictwo CeDeWu.
Dynus M., Kołosowska B., Prewysz – Kwinto P. (2005), Analiza finansowa przedsiębiorstwa, Toruń: Towarzystwo Naukowe Organizacji i Kierowania.
Janik W., Paździor A. (2011), Zarządzanie finansowe w przedsiębiorstwie, Lublin: Politechnika Lubelska.
Małgorzata Militz (red.) (2021), Wsparcie udzielone przedsiębiorcom w związku z pandemią COVID-19. Rozliczenia i kontrola, Warszawa: Wolters Kluwer.
"Ustawa z dnia 2 marca 2020 r. o szczególnych rozwiązaniach związanych z zapobieganiem, przeciwdziałaniem i zwalczaniem COVID-19, innych chorób zakaźnych oraz wywołanych nimi sytuacji kryzysowych", Dz.U.2020, poz.568, [data pobrania 21 grudnia 2020r.]